Audio-Visual Notifications
In the spirit of inclusivity, our audio-visual notifications are helping fans with visual impairments stay up to date and well informed at all times. Our text to ringtone notification service is available as a standalone product. Get in touch if you want to transform your traditional text notifications into an inclusive experience for your visually impaired audience.

Event Feed
Our event feed is provided by Enetpulse, which is one of the most reliable and comprehensive live score data service providers currently available in the industry.
With more than 20 years on the market, Enetpulse is our third-party partner for fast and secure delivery of data for our clients, completely integrated and managed by Pressenger.

Content Segmentation
Segmentation through Pressenger Our data-driven engine provides limitless segmentation opportunities by using anonymous data to customize a notification's appearance for the highest user relevance (e.g. content language.)

Segmentation through partner provider: Through our integrated partner provider, we can go even further and target only a specific user group in a defined geographic area. Additionally through the "Direct token sending method" we are able to provide a guaranteed "Real-time notification" delivery to all user groups.

Augmented Reality
Using AR, we aim to build a new generation of visual notifications that can be better interacted with or simply observed in another dimension. Although it is still a future-facing reality, we expect tech giants rolling out their AR wearables by the end of 2023 / beginning of 2024. When that happens, we are going to be at the forefront of bringing notifications to a new level.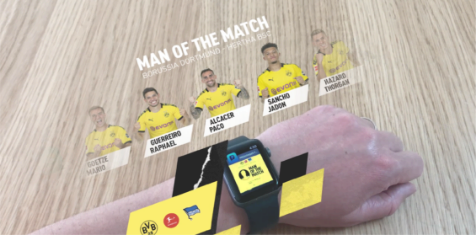 In-App Live-Ticker
Our live ticker framework is designed to be integrated seamlessly into our client's native app for a much more engaging in-app match coverage. Here we are repurposing the emotionally intelligent visuals, crafted in real-time for all defined scenarios, by our data-driven engine.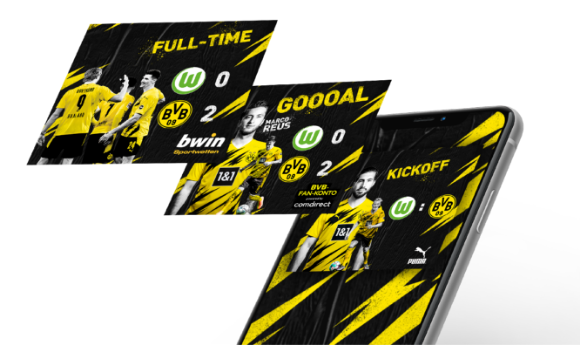 Smart Input
Smart Input is our innovative solution for controlling your notifications with minimum effort.
As soon as you login into the Admin Platform, the automated feed is disabled and you can create custom notifications with just a few clicks, even faster than an automated feed. Our smart engine even thinks for you by showing only the current relevant screen (e.g. "01" before kickoff and the scoring screen "02" during the game) together with a suggested notification text that the editor can customize if a more personal touch is needed.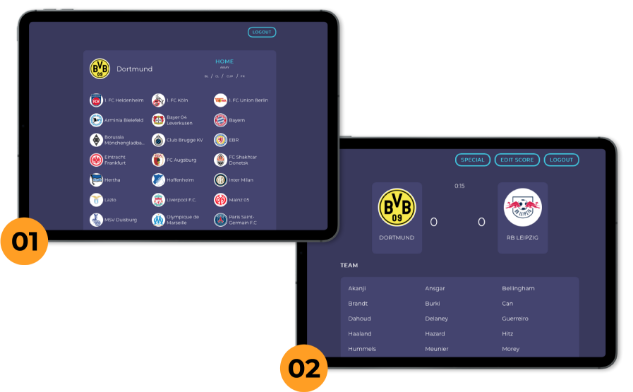 Content Strategy
Content Strategy:
With pure content focus, our notifications can be utilized to deliver valuable information through visuals right to the lock screen so users can be engaged and entertained just in time.
Monetization & Sponsorship Strategy:
With a monetization focus, visuals can be used to strengthen a branding message by linking it to a favorable event during the game (e.g. goal) or as an extended notification. All brand assets can be controlled and accessed through a dedicated sponsor login area, allowing for full sponsor flexibility.

Emotional Transmitting
If our client is using a 3rd party push provider, our engine forwards the generated Pressage-ID needed to trigger the notification appearance through the SDK.

Automated Social Content
The visual notifications created by our data-driven engine can be repurposed on Instagram or other social networks as part of a cohesive content strategy.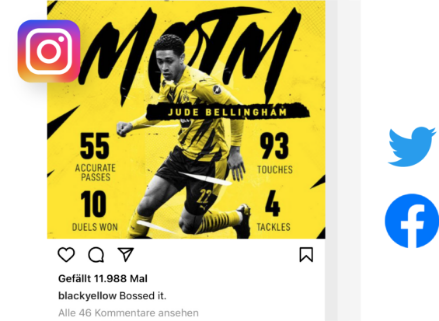 Template App Development &
Hypercasual Games
We provide a modular template app or entirely custom-developed apps for clients without an own app (Android & iOS), with our visual notification engine already implemented. This allows clubs to easily offer their supporters a mobile app experience, of a similar quality to top clubs, without paying high fees. Due to the modular nature of our template, we can customize it to the needs of individual clubs. From an engaging simple game to a fully-fledged club app experience, our program allows clubs to chose from features they require.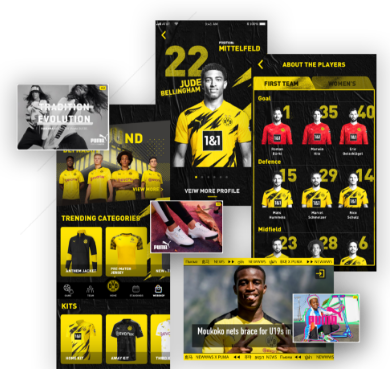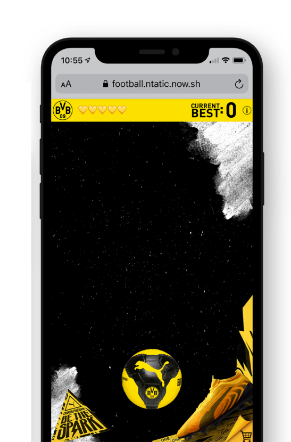 Most game-like interactive activities that companies launch especially to boost social engagement are missing out on a clear opportunity to use the virtual game environment as effective brand space. That's why we aim to create simple customized hyper-casual games that our partners can use to engage their audience in a fun and competitive way, boosting participation in any kind of campaign while delivering an authentic brand message (e.g. merchandise giveaways or sponsor prize challenges).